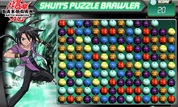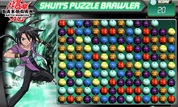 Play Now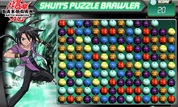 Unfortunately Shun's Puzzle Brawler is not available on your device. Please try one of the related games below or visit our HTML5 category.
This Flash game is loaded using an emulator. If you notice any glitches(such as the game getting stuck or music/sound missing), click to play the original version with NuMuKi Browser for the best experience.
About Shun's Puzzle Brawler Game
Shun Kazami has received a new challenge from his grandfather in the Shun's Puzzle Brawler game! However, he needs your help to complete the complicated Bakugan puzzle. Can you join him and clear out all the pieces? Use observation skills to come out on top of this task!
Your role is to take off as many pairs of Bakugans as possible! Prepare to look for every group and don't let them rise to the top of the board. Don't take this task lightly! There is a reason why Shun's grandfather is The Puzzle Brawler. How much time do you think you'll survive?
How to play the game
Firstly, you need to learn how to take the pieces of the board! Use your mouse to Double click on the Bakugan pairs. The balls need to be collected in groups of at least two. Most importantly, look for groups with more than two Bakugans to receive extra points.
The game will start with only one row of Bakugans, and it will increase as time goes on. Your role is to gather as many pairs as possible before they reach the top. At the same time, be aware that you can get only the horizontal and vertical groups. Don't waste your time with the diagonal ones.
There will be no time limit, but that doesn't mean you should not hurry! You will have a timer to see how long you collected the Bakugans. The higher the time, the better, so you can say that the fun can be endless! For how long do you think you'll collect the Bakugans before they reach the top?
Are you ready to start the puzzle brawl and see your results? Shun Kazami and his grandfather are really curious to see your performance! Can you impress them?