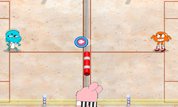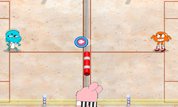 Play Now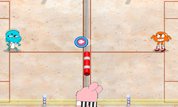 Unfortunately, Disc Duel is not available on your device. Please try one of the related games below or visit our HTML5 category.
About Disc Duel Game
Welcome to Gumball's school, the territory where he spends most of his time. Today Gumball is together with his friends, and classmates at the gym, playing the Disc Duel game. If you decide that you want to give it a try, get your sports equipment, and start training with Gumball. We know that you will enjoy every second of the match.
The rules of the game are simple. You need to choose if you want to play as a single player, or with someone else. This means that you might ask a friend to play with you, and have fun both of you at the same time. If you choose to play as a single player, you will play the game against the computer.
How to Play
You have to beat all your classmates to win the game.
In each level, you will confront someone else. The level ends when one of you achieve a significantly higher score. The first one, who has six shots, will win.
To control Gumball, use the left, right, up, and down arrow keys on your keyboard to move on the field. Catch the disc with your hands, and throw it using the M, or N keys on your keyboard. If you want to shoot harder, you can press both M and N keys at the same time. You will not be able to use this combination too much, only a few times.
Do your best to win the game, and everyone at school will love you. If you play with a friend, keep the competition going, and see which one of you is the best.
Good luck!
Other Games in this Series