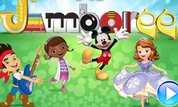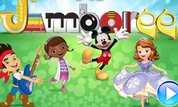 Play Now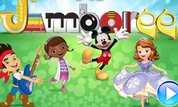 Unfortunately, Disney Junior Jamboree is not available on your device. Please try one of the related games below or visit our HTML5 category.
About Disney Junior Jamboree Game
Have you ever thought of adding some fresh tunes to Doc McStuffins' clinic? Well, with Disney Junior Jamboree Game you can now tune your own song. Create and improve to perfection your song using the tools this game provides you with and – who knows – maybe one day will be a sound director at Disney!
Your team is ready to go! Doc McStuffin's toy friends – Lambie, Chilly, Stuffy, Hallie, and Squeakers prepare their special instruments and are willing to blast the stage. When you arrange them before playing your final version of the song, notice that each character has his or her tune. If Chilly will surprise you with his low, echoed instrumental, Lambie, who is a gifted singer in the TV series, has a softer voice. They will be a perfect match – an ideal balance between tones.
More than that, you can always choose another Disney team and try to create even more unique songs. There are also other famous Disney characters to select, such as Sofia the First, Mickey Mouse, or Jake and the Neverland Pirates!
Customize your song
The secret of singing a good song along with Doc's friends, as you can guess, is to combine each character's ability successfully. Once your song is ready, go on and edit it a simple, yet stylish video, that will make your song stand out. In order to do that, explore the various buttons scattered on your game screen. Want some geometrical figures to float on your game screen while Doc's band perform their new song? Easily!
Once your masterpiece is ready, why don't you share it with your friends? To do that, once your band rehearsed the song, click the second button on the center of your game screen. You will get an URL for your song, which you can send to your friends. Create and share your music with Doc McStuffins!
Have fun!