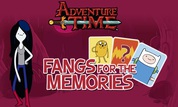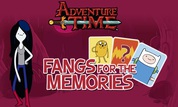 Play Now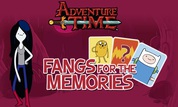 Unfortunately, Fangs for the Memories is not available on your device. Please try one of the related games below or visit our HTML5 category.
About Fangs for the Memories Game
Finn, Jake, and the entire Adventure Time cast are trapped in the Fangs for the Memories game! They need to be set free from the colorful caves, and you are the only one who can do it! Put your memory to the test and complete the puzzles!
Your job is to find out where every character is trapped. The heroes are hidden behind cards, and you have to flip them to get to your friends! You need to match two identical pictures, and the character is free! Move swiftly and complete the job quickly!
How to Play
For every level, two cards contain the same character! The cards are facing down, and you need to tap on every picture to find its match! Once you find two identical images, they will stay in the same position, facing up. Try to remember where your characters are to complete the game faster!
There are three levels in this game! You can start with the Easy mode and train for a bit! Once you feel like you know what to do, go to the Hard or Very Hard modes, and become a pro! Also, you need to complete the levels with a minimal amount of moves possible! If you do this, you will improve your final scores! You can find the number of moves on the top left corner of the screen! Keep track of that, and get the best ratings!
You need to help the poor Land of the Ooo inhabitants! Finn and Jake need your assistance once again, so prepare for a new adventure! Free your beloved friends and solve the colorful and challenging puzzles!