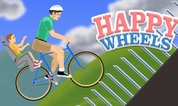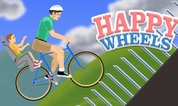 Play Now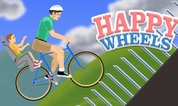 Unfortunately, Happy Wheels is not available on your device. Please try one of the related games below or visit our HTML5 category.
About Happy Wheels Game
Dare to give the Happy Wheels game a try to prove that you are a platformer expert! Embark on a ridiculous yet extremely challenging adventure, playing the role of a brave sanitation worker! He needs to use his segway to surpass some of the most dangerous traps you have ever seen. Just one false move, and he'll be dead! Can you help this unlikely protagonist reach the end of his journey?
The game consists of five exciting levels, each one of them unlocking a new environment for you. The construction sites get more dangerous as you advance, introducing new types of traps. Get through all of them to prove that your patience and precision are up to par!
How to Play
Driving around on a segway can be tricky, as you always need to pay attention to your balance! Use the Left and Right Arrow keys to move on the course. Whenever you need to jump, press the Space Bar. Make sure you do this at the right moment, as timing has to be very precise in this platform challenge! Even if it might seem difficult at first, keep persevering, and you'll succeed!
The obstacles in this journey might seem unusual or even impossible. You'll come across moving spikes, dangerous ramps, very long jumps, and even cars falling on you. Are you ready to avoid all of them swiftly and effectively?
Don't get impatient, as only one mistake will force you to restart the level! The key to success is to wait for the right moment to make your move.
What else you should know
This game is so challenging that you don't start with a set number of lives. In fact, there is a death counter that measures your success. To keep it as low as possible, take a close look at all the signs that come your way. They can provide important clues for surpassing obstacles, especially when they might seem impossible at first sight. Therefore, you should use every detail and hint to your advantage if you want to finish the level!
Don't be intimidated by this challenge! Even if it might sound impossibly difficult, you'll soon find that it's also a lot of fun. Your character can die in so many strange and hilarious ways! Even if you fail a lot and can't finish all the levels, you'll surely end up giggling or laughing out loud. Enjoy this unusual platform adventure!