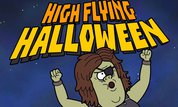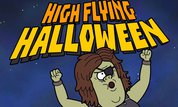 Play Now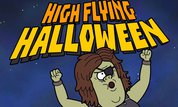 Unfortunately, High Flying Halloween is not available on your device. Please try one of the related games below or visit our HTML5 category.
About High Flying Halloween Game
When it comes to adventures and crazy things to do with friends, Mordecai and Rigby are the first ones in line. During Halloween night, they decided to take all their friends and learn to fly. Muscle Man is the most excited about this idea, and he wants to go first. You have the chance to see him in action in High Flying Halloween game, with Mordecai and Rigby.
The primary goal of the game is to get as high as you can and to collect as many coins as you can grab. The coins will help you with your score, and at the end of one level, you will be able to go shopping for extra powers. With the help of Racki the Wishmaker, Muscle Man is finally ready to fly with a giant pumpkin catapult.
How to Play
Even if it sounds good, Muscle Man will need your help during this mission. He does not know how to fly, and there are different obstacles on his way. You need to help him ascend to the stratosphere, without falling, or touching any Halloween monsters. Use your mouse to control the direction in which Muscle Man is climbing, and be careful at the moving floors.
If you happen to fall, make sure you dodge the creepy monsters on your way to the ground so they will fall too. You will receive bonus points for every monster that you hit during your fall. You can be the one who helps Muscle Man follow his dream and fly as high as possible.
We wish you good luck and do not forget to have fun!