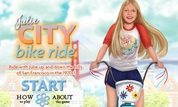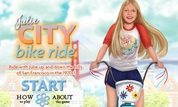 Play Now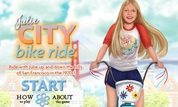 Unfortunately, Julie City Bike Ride is not available on your device. Please try one of the related games below or visit our HTML5 category.
About Julie City Bike Ride Game
Test the young girl's new sick ride and explore the streets of San Francisco in the Julie City Bike Ride game! Julie's bike has all the cool stuff: a banana seat, tall handlebars, and fun stickers. Take the "chopper" out for a ride in the neighborhood and enjoy the sunny day with a slightly cool breeze!
Hop on and help Julie collect gems while avoiding all the obstacles on the sidewalk! With her new bike, anything is possible! Make sure she's safe and doesn't run into any bin or rock on the street. Can you show off your impressive ride and prove you know how to navigate the streets of San Francisco?
How to Play
You only need your mouse to play this game. Ride the new bike throughout the neighborhood and click to jump to collect gems and avoid obstacles. Keep this up until you reach the end of your destination bar, which you can see at the bottom of your screen.
You also have an energy bar at the bottom of your screen. That one will empty with every obstacle you hit. In other words, you only have a few chances to stumble over the items on the road before Julie has to stop. When the energy bar is empty, it's game over!
There are a few bonus gems you can collect along the way. The yellow ones will give you some extra time, while the green ones will award you some bonus points for your final high score. Take advantage of the bonuses and collect as many as possible before you finish the ride!
Now that you know how to ride a steady chopper, are you prepared to show off your new tricks? The streets of San Francisco are ready for you!