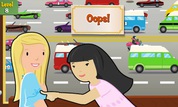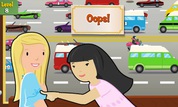 Play Now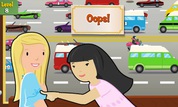 Unfortunately Julie's Punch Buggy is not available on your device. Please try one of the related games below or visit our HTML5 category.
About Julie's Punch Buggy Game
Join the two best friends on a fun trip around San Francisco in the Julie's Punch Buggy game! Julie and Ivy love riding the cable car around the beautiful city. Sometimes it gets a little boring, and the girls invented a game to keep themselves entertained! It involves colors, cars, and a bit of poking, but it's all for fun!
Your job in this game is to spot numerous kinds of funky cars along the highways of San Francisco. Every point you earn lets you playfully punch the other for fun! Are you up for the challenge? Play it by yourself or with your friends and test how quick your observation skills are!
How to play the game
You only need your mouse to play this game. Look at your partner's speech bubble and click on the car that matches the given shape, color, or type. Each correct find will award you a point and the chance to poke the other player in a friendly manner.
After each correct guess, the requests will get more specific. The first level can ask you to find a car based on its shape. At later stages, you might have to find one that has a precise shape and color. Maybe you'll need to locate multiple of the same kind. Let's see how observant you are!
There are a lot of cars on the highway, so you might accidentally click on the wrong one sometimes. That's a strike! The game offers you five chances to guess wrong before it's game over. How far can you get?
There is also a time limit, but don't worry too much! If you see a rainbow van passing by often, click on it quickly! It is a bonus and will award you a few seconds on your timer. This way, you can still score a few points and claim victory!
Time for some real fun, even as you move! How many points will you be able to score? Let the friendly poking begin!