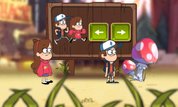 Click "Allow" to play Li`l Gideon Shrinks Back!
Click "Always allow" to play Li`l Gideon Shrinks Back!
There are some games on NuMuKi which require Flash. Enable it above.
Allow Flash pop-up not showing up? Click here
Many browser games, especially the older ones, are developed using Flash. Each game on our website is thoroughly checked before publishing so you can rest assured that playing Flash Games on NuMuKi is absolutely safe. For any questions or issues, please Contact Us.
First, you need to wait for the page loading to complete to see the Allow button.
NuMuKi
About Li`l Gideon Shrinks Back Game
Li`l Gideon seeks vengeance on the Pines Family in Li`l Gideon Shrinks Back Game. He has constructed a new growth flashlight, shrunk all the members of the family and abducted Grunkle Stan. Mable and Dipper need your help to save him and grow right back!
Firstly, you will have to find Li`l Gideon`s hiding place by exploring each and every corner of the house: the Outside Mystery Shack, the Basement and the Inside Mystery Shack. You begin the levels with three lives. At the start of every level, you can choose your character so you can play as either Mabel or Dipper. The other sibling will always be there initially, to give you advice and guide you through your quest.
Activate the magical crystal shards by pressing the spacebar so you can shrink or grow a small amount. This will help you escape the monsters, slip through the tight places of the house and gain access to the giant gummy koalas that lay in remote areas. The "left" and "right" arrows are used for moving forward and backward, and the "up" arrow, for jumping.
Collect all the giant gummy koalas. As you advance through the levels, the number of the giant gummy koalas that you will be able to find will increase. But watch out for the caterpillars, the cockroaches, the spiders and all the other dangers that await you around the corner, for they will take one of your lives. Fear not, though! Because by jumping on the evil monsters, you can make them disappear. After that, they will not bother you any longer. The Goat and Captain Waddles will represent a challenge for you at the end of the first two levels because they are in the power of Li`l Gideon now. In the last level, be sure to climb the squishy folds formed on Li`l Gideon`s coat and catch all the feathers, because you will use them to tickle Li`l Gideon in order to defeat him and bring Grunkle Stan back.
Be determined, courageous and begin your quest to find Li`l Gideon`s hiding place, along with Mabel and Dipper Pines. Do you have what it takes to bring the Pines Family back to the normal size and put an end to Li`l Gideons` mischievousness?
Game Details and Stats
Li`l Gideon Shrinks Back is an excellent Gravity Falls game that you can play on NuMuKi for free. It has been added to our website on Wednesday, October 31, 2018. The game has been played 190 times so far and has received a rating of 89 / 100 from a total of 45 user votes, 40 likes and 5 dislikes. Li`l Gideon Shrinks Back is loaded in an iframe, so it would adequately render in all browsers, including the mobile devices. The game window resolution has been optimized for best visual performance, having the width of 700px and the height of 500px. If you enjoy playing Li`l Gideon Shrinks Back, you might be excited finding out that there are 17 more Gravity Falls games you can try! The most popular is Postcard Creator and the most recently added is Villains Unite!
You may also like these games