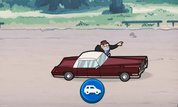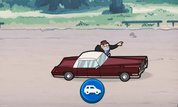 Play Now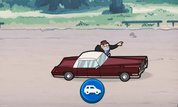 Unfortunately, The Great Stanmobile Escape is not available on your device. Please try one of the related games below or visit our HTML5 category.
About The Great Stanmobile Escape Game
Uncle Stan's favorite hobby is breaking the rules, he loves doing it, and he is never caught doing it. No matter whether we are talking about driving, paying taxes, taking care of children, he has and will never respect any rule that tells him what to do. This is also the case in The Great Stanmobile Escape game. He is now running away from the police who spotted him in his El Diablo convertible trying to escape them. They want to interrogate him at any price to find out more about his shady business, but he is not willing to do that at all. Help him escape, and drive his car better than he would!
Gravity Falls does not have the best roads around, and it is infamous for that. This is why you will find endless obstacles to avoid if you do not want to wreck the car and trust me, you do not want to! Not only because it looks fantastic, but Uncle Stan will make sure to ruin your like if you even scratch it. So be aware of the incoming dangers.
Dodge the road signs as much as you can and whenever you see a green key floating randomly in the air, do not miss it! It will magically repair the car in a blink of an eye. Also, catch the blue badges too, they will protect it from anything that could cause harm. The little orange fish will load the bar at the top, and once it is filled up, you will be able to boost yourself up.
Drive fast and don't get caught!