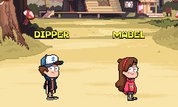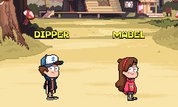 Play Now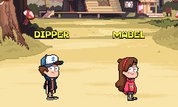 Unfortunately, Rumble's Revenge is not available on your device. Please try one of the related games below or visit our HTML5 category.
About Rumble's Revenge Game
Mabel and Dipper were having a typical day playing video games, while suddenly they woke up as the protagonists in one of the games. Rumble McSkirmish set a trap for the two brothers, and now they are in a scenario that Rumble has programmed. You need to help Mabel and Dipper escape from the Rumble's Revenge game and go back home.
To get home, you have to find and beat Rumble. This is not an easy thing to do. You will have to confront with so many creatures that want to destroy you, that you will not even be able to count them. Rumbles fighting moves are very powerful and repetitive. If they do not defeat Rumble, they will never go home again.
How to play the game
Before you start the game, you should pick the character you want to play with. While Dipper moves very fast, his strength is not so good. He is also capable of casting a mystery power attack, called Multibear. On the other side, Mabel moves slowly, but her strength is much better than Dipper's. Her mystery power attack is the Aoshima. Choose wisely, before you start the game.
You will be able to move your character using the arrow keys. The X key will help you fight, and by pressing the C key, you will jump. You will not be able to move on until you get rid of all the enemies that try to stop you. If you walk on an object and you press the X key, you will be able to collect it and throw at your enemies.
You finish the level when you find your way back to your sibling. Be careful not to lose too many lives, or the game will be over.