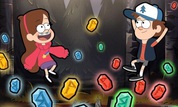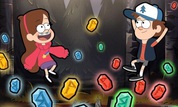 Play Now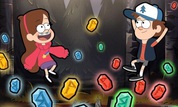 Unfortunately, Magic Rune Mystery is not available on your device. Please try one of the related games below or visit our HTML5 category.
About Magic Rune Mystery Game
Mabel and Dipper can't catch a break in the Gravity Falls: Magic Rune Mystery game! The two siblings got separated, and they should get back together quickly. However, a floating magical chest will not show them the way out until they clear their challenges! Can you help them get out of this strange situation?
Your job is to guide them through their challenges and make sure they cover as much ground as possible! However, their asks are not the same, so make sure you adapt to everything fast. Will you bring Mabel and Dipper back together?
How to Play
The controls are pretty straightforward! You only need to use the Arrow Keys to move around! However, even if it sounds simple, you should be as quick as possible if you want to reunite the siblings. Gravity Falls is a place full of dangers, so don't let it take you by surprise!
There are two types of challenges in this game:
- Jumping Mabel: Help Mabel ascend by hopping on the platforms!
- Falling Dipper: Get Dipper down as quickly as possible!
You will have to look for obstacles like moving or disappearing platforms and monsters for each one! If you get hit by something, you will lose one health point. Three strikes, and you are out!
There are some tools to make your run easier! You can buy power-ups with the runes you collect along your way. The price might be a combination of the runes of Dipper and Mabel, so you need to grab them with both! For example, you can buy an extra health point, a rune magnet, and many more!
Are you ready to help the siblings through their journey? Mabel and Dipper need to find each other as fast as possible, so let's get to work!