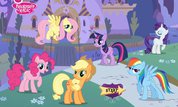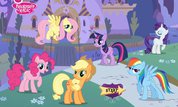 Play Now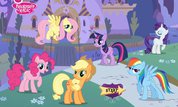 Unfortunately, Castle Creator is not available on your device. Please try one of the related games below or visit our HTML5 category.
About Castle Creator Game
Join your beloved friends from the My Little Pony series for a new magical challenge with the Castle Creator game! Have you missed Pinkie Pie, Rainbow Dash, Rarity, Fluttershy, Applejack and Twilight Sparkle? Now you have the chance to hang out with them in a unique setting, created entirely to your taste! Choose a fun location inside or around the castle and set out the scene for some beautiful memories with your friends from the land of Equestria. You are surely in for a lot of fun!
The game includes a brief presentation of the controls that will help you get started with your creation right away! Basically, choose a background out of the many options, then place different characters and objects around it to create a beautiful scene featuring your dear friends. Remember that you can rotate, position, and adjust the size of all of the items you place on the stage. What is more, you can delete certain elements or restart the entire process at any time using the buttons at the bottom of the screen.
Time to get started! Choose one of the many backgrounds available to set the atmosphere for your imagined scene. There are twelve options, all of them including many intricate details that will add some extra charm and magic to your creation. What about a mysterious flower-filled clearing at midnight? Would you rather use Ponyville featuring spooky Halloween decorations? The choice is yours!
Add flavor and personality with characters and objects!
Now, you're in for the most exciting part! It's time to look through the thirty-six available options regarding characters. Not only do you get to choose from many of your friends from the My Little Pony universe, but you also benefit from a variety of different postures, expressions, and outfits to choose from. What about some royal clothes fit for an elegant gala, or even some scary costumes?
Put in objects to complete the story behind your image and round up your creation. Can you believe that there are over fifty items to choose from? There are almost endless possibilities with so many categories! You can find almost anything, starting with furniture all the way to food, drinks, and even toys. Make sure to scroll through all of them and add all the necessary details to make the final image magical!
Are you done? Then it's time to print out your creation to hang up on your wall or even show off to your buddies! It will certainly impress them, and even start out a friendly competition! Isn't that awesome?