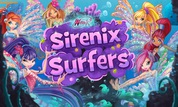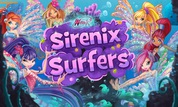 Play Now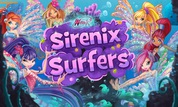 Unfortunately, Sirenix Surfers is not available on your device. Please try one of the related games below or visit our HTML5 category.
About Sirenix Surfers Game
Underwater fun is the best in the Sirenix Surfers game! The ocean is full of beautiful fish and coral reefs, but all this nature can turn from beauty to fun! The Winx girls are using natural elements in their surfing race.
Fascinating rocks and corals can turn into obstacles! The shells and the starfish turn into valuable things to collect on your way. Here are all the things you need for a really awesome competition.
Ready, Steady, Surf!
The aim of this game is to surf swiftly for as long as you can. But you must be careful since there are many obstacles on the way. Huge rocks and pillars stand between you and the victory. Make sure to avoid them at all costs!
Learning how to surf with the Winx girls is easy as pie. You must use the Left and Right Arrows to switch lanes. When you see something coming towards you, don't waste any time and avoid it. Use the Up and Down Arrows to duck or jump.
In this game, each girl has her own unique power, which will help her to be the best. Good reflexes that help you avoid obstacles, stone destroyer powers, and speeding boosts and only a few of the possibilities.
You should also know...
To use the Winx magical power, you must wait for the meter on the left to fill up. Only then will you be able to activate it. Press the Spacebar to use it when you need some help. But remember not to abuse it because it takes a while to fill up.
As you play the game, try your best to collect the gold coins. You will be able to exchange them later on for a better surfing board. You could even unlock other girls with new power-ups!
Mix and match the girls and the boards according to your preferred playing style!