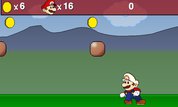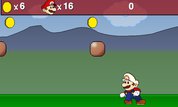 Play Now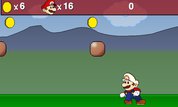 Unfortunately, Super Mario X is not available on your device. Please try one of the related games below or visit our HTML5 category.
About Super Mario X Game
It is Mario's day off, but out of nowhere, he got a letter from Princess Peach. The message says that the evil King Bowser kidnapped the princess again, and the Mushroom Kingdom's princess is in big trouble. Now Mario has to leave Luigi at home to protect the kingdom and go on an adventure in the Super Mario X game to bring the princess back home
Help him fulfill his mission, and save Princess Peach for the good of her kingdom, and Mario's house. To rescue her, Mario needs to pass some levels, and arrive at the castle of The Evil King Bowser, where she is locked. Be careful because the way is full of enemies ready to stop you, and you should avoid every trap that you see.
How to play the game
Use the up, down, left, and right arrow keys to move Mario from one side to the other, and more than that, the up arrow key will help you jump over your enemies, and destroy them if you land on their head. Hit all the gold blocks to collect coins and mushrooms. The mushrooms will help you grow up, or they will give you extra powers to fight with the enemy.
Some mushrooms can protect you from your enemies, and even if they touch you, nothing will happen to you. Be careful not to fall from the platforms, or Mario loses a life. You pass the level when you reach the green tube, and go down on it, to the next level.
Do do this thing, jump on the tube, and press the down arrow key on your keyboard to lean. The levels will become harder and harder, but once you practice more, everything will be all right. When you get to the Evil King Bowser's castle, you have to fight him and save the princess.
Good luck!