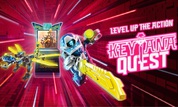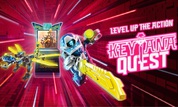 Play Now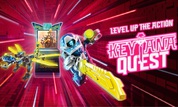 Unfortunately, The Keytana Quest is not available on your device. Please try one of the related games below or visit our HTML5 category.
About The Keytana Quest Game
You shouldn't miss out on The Keytana Quest game if you are a fan of the Ninjago and arcades! Are you ready to step in a colorful and dynamic world, where every move is a chance to earn a new point? You are in for a thrilling adventure that will introduce you to fierce warriors like Jay and Kai. Can you handle the high levels of adrenaline?
Your mission is thrilling: chase the villain and take him down. You can play the role of two famous warriors in the Ninjago Universe. Have you heard about the two Elemental Masters, Kai and Jay? Whether you choose the Ninja of Fire or the Ninja of Ice, you will need to face many enemies and find a way to beat Unagami. Are you ready for this fierce confrontation?
How to Play
The game consists of two separate tasks. Both of them are extremely exciting and feature simple controls. However, you might find that passing each level is not as easy as it seems! Are you ready to give them a try?
The first stage of your mission requires lightning-fast reflexes. Brace yourself for a wild ride! You will need to navigate a course jam-packed with enemies. Switch between the three lanes and avoid all foes by pressing the Left and Right Arrow Keys!
The goal is to collect 15 Key-Tanas before the time runs out. However, each enemy that manages to hit you will make you lose precious time. Be careful and agile to reach the next level and come one step closer to capturing Unagami!
What else you should know
If you have managed to collect all the Key-Tanas, you're just one step away from catching the dangerous villain. All that's left to do is take down Unagami's ship! Do you think you have what it takes?
Let's fly! You can steer your ship using the Up, Down, Left, and Right Arrows on your keyboard. The good news is that your ship fires automatically. Therefore, all you need to do is avoid getting hit by the enemy fleet! Besides, you should also try to align your ship so that it can hit Unagami. Can you deplete his life bar before yours runs out?
You're in for hours of fun with this amazing arcade adventure! Who would have thought that ninjas and retro games go so well together? You'll be on the edge of your seat as you try to take down one of the most powerful warriors in the world of Ninjago!