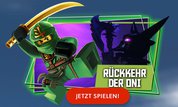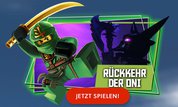 Play Now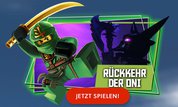 Unfortunately, Return of the Oni is not available on your device. Please try one of the related games below or visit our HTML5 category.
About Return of the Oni Game
The most dangerous creatures in the world plan to destroy the kingdom in the Return of the Oni game. Pain and suffering are what they have in mind and what they want to bring into the world. You are the only ninja alive that can help the powerful Ninjago group to stop the evil creatures!
The Oni have returned. And one after the other, they plan to demolish the buildings of the kingdom, to kill every citizen alive and to take control. Their plan is extremely evil. And the most important thing is that they are numerous. So you need to be strong to fight them.
It might seem dangerous and challenging to prevent the monsters from taking control of the city and the world, but you are not alone. You can take them down with the help of your amazingly competent ninja companions. Get mentally prepared and show the Oni what you can do.
Defeat the Oni!
Let's get over the basics before proceeding into the battle. You must know that the city is protected by the Yin-Yang sign, and the monsters must not invade it. Once they outnumbered and defeated you, they will take control of the town. Your job is to prevent this from happening.
So every time you see a monster getting closer to you, keep him away, and approach him by clicking the mouse. The click will also serve as an attack. If you keep it pressed for a longer amount of time, it will charge a stronger attack. But the more you use this, the more your power will decrease, and the less efficient your next attack will be.
If a monster manages to attack you, your life will decrease. Do not worry, though. When one of the warriors is down, another one will take control. So you have many chances to defeat all of the evildoers in no time.
And do not forget that you also have a special attack, depending on the warrior that you currently control. This special attack will get charged the more you hit the enemies. And it will help you kill them all.
So what do you say? Are you ready to be a hero and save the world?