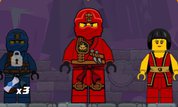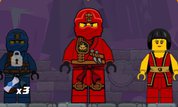 Play Now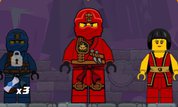 Unfortunately, Fallen Ninja is not available on your device. Please try one of the related games below or visit our HTML5 category.
About Fallen Ninja Game
Help, something terrible has happened! Can you help your favorite ninja team in the Fallen Ninja game? The evil Morro has stolen the Airjitzu scrolls and thrown the whole ninja team at the bottom of a bloody tower! In the terrifying darkness of the tower, it's pretty easy to lose your cold blood and fail your mission!
But this just can't happen to a true ninja, right? You need to gather all your strength and put your abilities to good use! Will you be able to recover the scrolls and get your revenge on the despicable villain?
How to Play
At the beginning of the game, you get to select your character. To start with, you only have two options: the feisty Fire Master Kai and his stubborn samurai sister, Nya. In order to unlock the other members of the team, you need to collect three Airjitzu scrolls in the color corresponding to their uniforms. This way you get to experience the gameplay with even more characters, such as the cool-headed Cole, reserved Zane or the light-hearted Jay.
The gameplay is as straightforward as it can be. All you have to do is travel up the tower walls and collect as many scrolls and coins as you can. You can do so by simply pressing the space key once to jump and double-pressing it for a long jump.
Beware of the many obstacles, such as falling boulders or traps! You can travel along the walls by taking advantage of the green vines, which will stop you from sliding down. Make sure you don't fall! You have a chance of breaking your height or score record.
Can you find all the secret scrolls that Morro scrolled and unlock all the characters? The feat is not as easy as you might think, as the dark tower hides many secrets to those brave enough to search for them! It is only up to you to collect all the points and become the hero of this adventure!