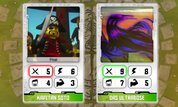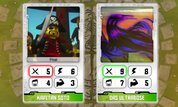 Play Now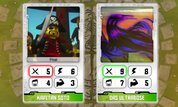 Unfortunately, Cards Duel is not available on your device. Please try one of the related games below or visit our HTML5 category.
About Cards Duel Game
Welcome to a world full of possibilities in Ninjago: Cards Duel game, where you can fight your enemy using your best deck of cards ever. Strategy, humor, strength, and wisdom is all that you need to master this fantastic game. Do you think you have what it takes to be the best ninja?
Speed, humor, strength, and ability to fight. These are the skills required for your army. And the most important thing is to choose them wisely. The stronger the levels on their abilities, the stronger your attack. So what do you say? Can you pick them all correctly and defeat your opponent?
In the beginning, you will only have a pack of carts at your disposal, and by choosing the best ones, you will get the chance to capture some more cards from your enemy. Let's begin the game and see how you can do this correctly.
Defeat your ninja enemy!
From your given pack you will be able to select four cards that you are going to use in the disputes. Check the points for each of the essential skills. Every battle will consist of a duel between you and the adversary, regarding one specific skill. So make sure that your final deck consists of four excellent contestants.
One card must have a high score in humor, another one in strength and so on. Only this will ensure your success. Now let's move on to the battles. The ratings on each skill will be compared to one of your enemies. And the one that has the highest score will win the opponent's card.
This is the only way towards the completion of your pack. But if your opponent has a card that is stronger than yours regarding one specific skill, the card will be lost from your deck. So just be careful and choose your cards wisely.
Once o round of four battles is done, you have the option to change the deck and replace the old cards with the new once that you've just won.
Does it sound interesting? Then what are you waiting for? Get your deck ready for the fight of your life.