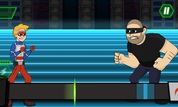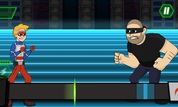 Play Now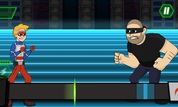 Unfortunately Baddie Barrage is not available on your device. Please try one of the related games below or visit our HTML5 category.
About Baddie Barrage Game
Join Henry for another trial in the Baddie Barrage game! Kid Danger needs to pass Captain Man's test, and you're the one who can help him! Impress the hero and prove your skills as a sidekick in this fun challenge!
In this fun one-tap arcade game, your job is to fight off the bad guys and show off your strength. React quickly, throw punches, and don't let yourself get hit! If even one enemy touches you, it's game over. Help Henry finish his mission and impress his mentor, Captain Man! Do you have what it takes to complete the trial?
How to play the game
To give Henry the signal and tell him when to punch, all you have to do is use your mouse and Left-click on the screen. All you need is one click within the blue area on the bar, and Kid Danger will win the fight! Sounds easy enough, right?
You should pay attention to the bar on the lower part of the screen! What you need is just one click in the right area. If you manage to stop when the line touches the bright blue side, you will get an even higher score, but that will need a quick reaction and good hand-eye coordination.
If you're slow, you might end up tapping on the gray area! That means the enemies will take advantage and hit you! Sometimes you will even have multiple bad guys coming at you, so you need to use your skills and pay attention! The recipe for success is to always be focused and ready to click!
Kid Danger needs your help to impress Captain Man! Join the fight and help him win the battle now!