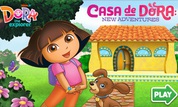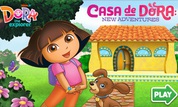 Play Now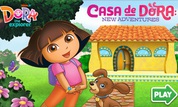 Unfortunately, Casa de Dora: New Adventures is not available on your device. Please try one of the related games below or visit our HTML5 category.
About Casa de Dora: New Adventures Game
Spend a lovely day exploring the young girl's house in the Casa de Dora: New Adventures game! Although Dora often goes on many exciting journeys, she loves spending time at home with her family and puppy! Her colorful bedroom, her mother's delicious food, and her playful dog Perrito always make her smile! Will you join Dora on this cozy adventure?
Walk around the house, interact with the objects around it or go into different rooms to play some of the minigames Dora has prepared for you! You can help Dora pick an outfit, learn a new recipe from her mother, or teach Perrito how to fetch! There's never a dull moment around the young explorer's house!
How to play the game
You only need to use your mouse to enjoy all the fun activities in Dora's home. Click on objects around the house and watch them react. You can also enter various rooms by clicking on their respective doors! Use the arrow to move between different parts of the house, and make sure to explore every corner!
Each room will give you the chance to play a minigame! Try them all and see which one you like the best! Here are the three locations:
- The Bedroom: click on Dora's costume box and help her choose a fun outfit for a relaxing day at home
- The Kitchen: help Dora's mother make some of her favorite meals like pizza or fruit salad
- The Backyard: join the young girl as she teaches her fluffy puppy how to play fetch.
Keep your eyes peeled as you walk around the house. Perrito is a little rascal and loves hiding behind the couch or flower pots. It's not too hard to spot him! Try finding the puppy in every room before he goes into hiding again!
Will you play all the minigames and enjoy your time around Dora's lovely home? Vamonos! This cozy adventure awaits you!
Other Games in this Series