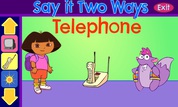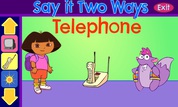 Play Now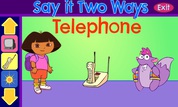 Unfortunately, Say it Two Ways is not available on your device. Please try one of the related games below or visit our HTML5 category.
About Say it Two Ways Game
Learn a new language in a fun and interactive way with the Say it Two Ways game! Dora and Chico have joined forces to teach everyone how to say all kinds of words in Spanish. They came up with a new game where Dora will spell a word in English, then let Chico say the same word in Spanish! Pretty fun, no? Can you keep up with the two and learn some new words?
Learning Spanish is no easy task, so Dora and Chico are here for you! Try paying attention to the spelling and pronunciation of every word, then repeat it to yourself to make sure you remember it! If you enjoy games that teach you something useful, this is the one for you! Let's have fun and learn new things together!
How to Play
Words and sounds are the most important tools when learning a new language! However, in this game, you should use your mouse. First, click on the Up and Down arrows to scroll through the images. Then click on the image you are interested in to hear it read in English and Spanish!
The images contain all kinds of things you can learn about, such as nature, animals, food and so on! For example, a cat in English is called a Gato in Spanish. Or the Sun is Sol in Spanish! Some words can have an identical spelling, but the pronunciation is a bit different such as Banana! The two languages have a lot in common!
Don't worry if you don't get it right the first time! You can click on the object or animal multiple times if you want to hear it again! It is all about practice and concentration! Focus on Dora's and Chico's words, then say them on your own, and you'll be a master of the Spanish language before you know it!
Now that you know all the tricks, will you be able to make this a fun experience and test your Spanish language skills? Vamonos! There are always two ways to say a word!