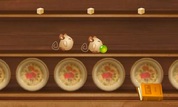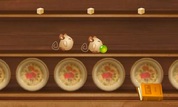 Play Now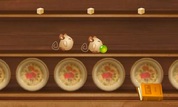 Unfortunately, A Daily Cup of Tea is not available on your device. Please try one of the related games below or visit our HTML5 category.
About A Daily Cup of Tea Game
Imagine a world inside your kitchen where two little mice are on a sweet mission! In A Daily Cup of Tea game, these furry friends love their tea but know that sugar is the key to the perfect cup. On their adventure, they hop and dash around the shelves of a big cupboard, trying to get all the sugar cubes they can.
As a helper, you're in charge! You get to guide the mice to gather the sugar, making sure they have everything they need for their delightful tea time. Let's see how to do this.
How to Play
Ready to move the mice? Just move your mouse! If you want the mice to run left or right, move your mouse that way. Want them to jump up to the top shelf? Just click on the shelf above them. And if you think they need to come down, a click below will do the trick.
Now, about those sugar cubes... The goal is teamwork! One mouse knocks the sugar off the shelf, and the other mouse has to catch it. You only get a win for the sugar cubes that don't fall on the floor. Once all the sugar is collected (or dropped), you move on to the next level.
While you're gathering sugar, watch out for things like bouncing balls and tumbling books. They're tricky and can make you lose a life if they hit your mice. Make sure the mice are always safe because we all know tea without sugar isn't as fun!
Remember, teamwork is key! Plan your moves carefully so one mouse is always ready to catch the falling sugar cubes. Also, keep a sharp eye on those sneaky hazards. Timing is everything!
Now, are you ready to help our two mouse pals on their sweet journey? Let's make every tea time a sugary delight! Happy playing!