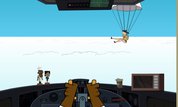 Click "Allow" to play Flight Simmerator!
Click "Always allow" to play Flight Simmerator!
There are some games on NuMuKi which require Flash. Enable it above.
Allow Flash pop-up not showing up? Click here
Many browser games, especially the older ones, are developed using Flash. Each game on our website is thoroughly checked before publishing so you can rest assured that playing Flash Games on NuMuKi is absolutely safe. For any questions or issues, please Contact Us.
First, you need to wait for the page loading to complete to see the Allow button.
NuMuKi
About Flight Simmerator Game
Everyone knows Chef from the Total Drama show because he seems to be the only person in the whole staff and he is able to do everything. From cooking meals and cleaning to sailing a boat and flying a plane, he was seen doing all these things during the show. There is nothing he cannot do. This time, Chris asked him to fly the plane toward the new destination of the show in Flight Simmerator Game. But being the only one handling the flight can be a difficult job. Many things have to be done simultaneously in order to fly as safely as possible. This is why they all need your help in this game. Fly the plane to the left or right using the arrows pointing in that directions. While traveling in the air, there will be lots of pointy things that pop out of clouds. From tops of skyscrapers to peaks of mountains, all there can mean grave danger. But Chef`s experience and your quick thinking will make it a piece of cake to avoid those things. Because being a pilot also means using great loads of energy to stay awake, he will need to grab a bite quite often, that is why he never goes up a plane without grabbing his trusty microwave oven with him. In it, you can easily cook a quick burrito that will turn down a notch his hunger. Whenever the hunger bar gets very low, do not waste any more time and click on the oven to start preparing the burrito. When the green lights on it appear, it is time to take it out of it. If you do not take the food in time, the microwave will explode, and that means that you will stay hungry more. When Chef becomes too hungry, he will grow too weak to control the plane, and it will crash, and that means game over for you. At night he will need more food than during the day in order to keep himself wide awake. And those are only some of the worries because in the air there are all sorts of thing flying around that can put in danger the plane. Be it somebody in a parachute or a bird, if they hit the plane that will cause the windshield to crack. Maybe if that happens to a car that would not be such a big deal, but at such height, it translates as a plane crash. Click on the cracks caused by the flying object to mend them fast. Do not let them there unfixed because eventually, the glass will be too weak to face the force of the air, and it will break in lots of pieces, and the plane will lose pressure. The further you go into the game, more and more obstacles will appear, and it will become harder to pilot, thus Chef will become even hungrier, so you will also need to cook faster. It might seem like a challenge at first, but it is in fact very entertaining. Good luck young pilot and always remember to look at the bride side of the flight!
Game Details and Stats
Flight Simmerator is an excellent Total Drama game that you can play on NuMuKi for free. It has been added to our website on Monday, September 17, 2018. The game has been played 227 times so far and has received a rating of 78 / 100 from a total of 46 user votes, 36 likes and 10 dislikes. Flight Simmerator uses Flash technology to be compatible with most browsers. The game window resolution has been optimized for best visual performance, having the width of 700px and the height of 550px. If you enjoy playing Flight Simmerator, you might be excited finding out that there are 21 more Total Drama games you can try! The most popular is Oh No U Di`n`t and the most recently added is Total Drama Twister Kiss
You may also like these games