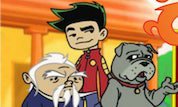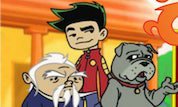 Play Now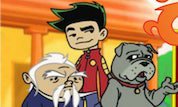 Unfortunately, Jake's Fire Power is not available on your device. Please try one of the related games below or visit our HTML5 category.
About Jake's Fire Power Game
Jake is discovering his powers, and in Jake's Fire Power game, you can help him do this better. He is only at the beginning, and he just loves to use his dragon powers!
Today he has to pass a test in order to show that he is entirely able to control his powers. There are a lot of ice sculptures popping out in front of Jake, and most of them are threatening him. He needs to melt them down using his special abilities, but the thing is that not every ice statue is dangerous to him.
If you avoid the good statues, your fire will keep flowing, and you will not lose so much energy. Using the left and right arrow keys move from one side to another to find ice statues. When you see an evil figure, put your mouse on it and click to melt it with fire.
Only hit the evil statues!
At the beginning of each level, you will see which statues are good and which are evil. Once you advance through the levels, there will appear more statues to confront with, and they will be moving faster and faster so it will be harder for you to aim well.
On the lower side of the screen, there will appear the number of statues that you still need to shoot down, but also how much energy you have left. Make sure your power does not go all away before you finish the level otherwise you wouldn't be able to complete it successfully. Do not lose your hope if you do not succeed at your first try. Keep practicing, and everything will be all right.
Good luck and have fun!