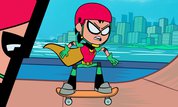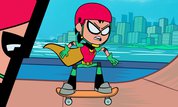 Play Now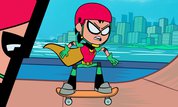 Unfortunately, Rock-n-Raven is not available on your device. Please try one of the related games below or visit our HTML5 category.
About Rock-n-Raven Game
Robin and Raven are good friends. When they do not fight with the evil forces, they love to do all kind of things. When they have a day off, they spend it together, listening to music, reading books, training, or going out for different activities. Today Robin wanted to show Raven his new Skateboarding moves, and he asked her to go in the park with him. In the Rock-n-Raven game, you have the chance to watch Raven make some of Robin's favorite moves.
Get ready for adventure and fun with the two Teen Titans. All you have to do is use your mouse, and be prepared to click on the circle with the moves when Robin tells you. Raven will make every move, going further, and achieving a good score. She can jump with the skateboard for a long distance if you keep on pressing the right buttons.
Watch out for Robin every time. When he tells you to press a button, you should not waste any time because Raven will fall. You have one minute to collect the most points you can and to make the best moves that Robin can see. If you press the wrong buttons, Raven will fall too.
Try your best, and do not give up after the first tries. We know that a new sport or activity might be hard at the beginning, but if you keep on trying, you will become better and better with each day that passes. Robin did the same thing, and now he is one of the best skaters. It is time for you and Raven to show what you can do.