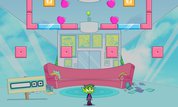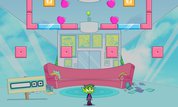 Play Now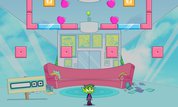 Unfortunately, Titanic Heartbreak is not available on your device. Please try one of the related games below or visit our HTML5 category.
About Titanic Heartbreak Game
Have you met the Teen Titans? They are five brave teenagers who would do anything to protect the world we live in any time of the day. When a villain is destroying the town, or when someone is in danger, they are there to save the day. When they are at home, they like to do ordinary things. Today Robin found out that Starfire loves him. Now he cannot stop his feelings. His happiness is too obvious, and it puts Raven, Beastboy, and Cyborg in danger. Help Raven, Cyborg, and Beastboy in the Titanic Heartbreak game, and keep them away from Robin's love.
Choose one character that you want to play with, and make sure you avoid Robin's hearts. When Robin passes through you, use your powers to make the hearts disappear. Be careful because when you hit a heart, it will break into more hearts. If one little heart touches you, you will fall in love, and the game is over. You need to destroy all the hearts before they get to you. Use the left and right arrow keys to move from one side to the other, and the Spacebar key on your keyboard to use your power.
Love is good, but it can stop the Titans from their missions. Make sure this thing will not happen, for the sake of everyone else. You can try to stop Robin with every character that you have. Maybe you will be luckier with Beastboy, or with Raven, or with Cyborg. You never know if you do not try. We wish you good luck, and we hope that Robin's love will not get to you before you save the day. Do not give up after the first tries. We are sure that you will do great!