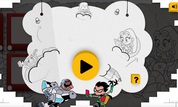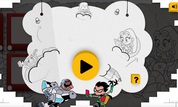 Play Now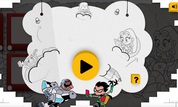 Unfortunately, Storyboard is not available on your device. Please try one of the related games below or visit our HTML5 category.
About Storyboard Game
Something memorable happened, but nobody seems to remember in the Storyboard game. Teen Titans always have the greatest experiences, but it does get difficult to remember everything clearly. That is why they like to draw all their adventures!
Today somebody has messed up with all the drawings. They deleted some very important scenes. The worst part is that nobody remembers what happened! It's your job to recreate the stories as you think. You have to imagine what is missing in the picture!
How to play the game
This game does not require special drawing equipment or incredible skills. The only thing you will need is your mouse. You will use it as a drawing guide for recreating the missing part of the picture. It can be anything you like and can draw. You could go for a classic scene from the Teen Titans show, or, for something spicier, bring on your own ideas for it. Your imagination is the limit.
To draw the lines, simply click and then drag while holding the mouse. That will create a black line that can become the beginning of a great story. Do not shy away from becoming very creative and bringing on something entirely new!
Each board has a pre-made drawing of one of the Teen Titans in an interesting pose. If you are out of ideas, you should try to brainstorm starting there. Maybe after that, you will develop a whole event that caused them to look that way.
If you are not satisfied with how your drawing looks, you can always opt for the eraser. This little tool will delete anything you want out of the picture effortlessly.
After you finish the work of art, you can always brag about it to your friends and family. If you like it a lot, you could also opt for printing. That way, you'll always have a cool Teen Titans Memory! Have fun, reinventing!