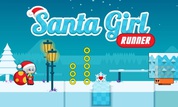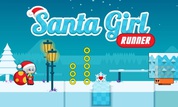 Play Now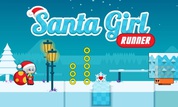 Unfortunately, Santa Girl Runner is not available on your device. Please try one of the related games below or visit our HTML5 category.
About Santa Girl Runner Game
Pick up the gifts and run through the snow in the Santa Girl Runner game! Are you in the mood for a little adrenaline mixed with some Christmas spirit? Then this is the perfect game for you! You will have the opportunity to dash through the snow and even ride around in Santa's sleigh! Isn't that exciting?
The game consists of a virtually endless run through a snowy realm. The game lasts as long as you can keep Santa's cute helper alive. Can you collect all the presents? Try your best, and see how high your score can be!
How to Play
Grab Santa's sack of gifts and start running! Luckily, your character does this automatically. Your job is to use the Up and Down arrows to jump and duck. Can you perform the right action at the right time? It's time to find out by playing the game!
How many golden rings and presents can you collect? Try your best to gather all of them up and earn a high score! However, be careful when it comes to various obstacles! For instance, if you crash into one of the orange spiked crates, you'll lose your precious snowy heart. Make sure you gather a new one as soon as possible! Otherwise, you'll die the next time you get hit. Ouch!
Have you noticed any red snowflakes? Make sure you grab them as fast as you can! They allow you to use Santa's magical sleigh for a few seconds. It's so magical and luxurious! Isn't it impressive that you can fly over the obstacles and score valuable bonus points?
Can you keep up with Santa's adorable blonde helper? The more you play, the more you will sharpen your reflexes. Besides, the festive atmosphere will put you in a cheerful mood instantly.
Be careful, as this game is extremely addictive! You'll spend hours alone or with your friends, trying to beat the last high score.