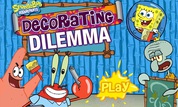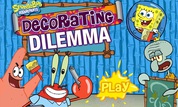 Play Now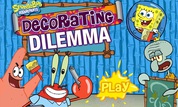 Unfortunately, Decorating Dilemma is not available on your device. Please try one of the related games below or visit our HTML5 category.
About Decorating Dilemma Game
Help SpongeBob choose the perfect wallpaper for his pineapple home in the Decorating Dilemma game! It's time to give SpongeBob's cozy house a new look! Whether it's a pineapple pattern, flowers galore, or relaxing but colorful bamboo designs, the wallpaper will bring a different feel to each room! Can you find the best wallpaper for SpongeBob's home?
Your job in this game is to help SpongeBob match the wallpaper pieces to the model and glue them to his walls! The patterns are colorful and not always coordinated but focusing and paying good attention to the design will get you success! Don't hold back, and let your eyes guide you!
How to Play
To glue the wallpaper onto the walls, use your mouse. To begin with, look at the pattern box on the left of your screen. That is how your wall should look at the end of the round. The wallpaper strips will switch until they match the exact style and placement of the model. Then, quickly click to seal them with glue! However, be careful! Once glued, the design will be locked in place, even if it's wrong!
Although it seems like a relaxing activity, the timer is fast! You only have a few seconds to look at the wallpaper before it changes. To make the challenge harder, you also have limited rotations. You only get ten chances to find the correct pattern and glue it down before advancing to the next level!
Each match gives you points, but if you follow the pattern exactly, you'll get a bonus for your score! Do your best to find the matches before your twenty lives run out. It might seem like a lot, but each mistake will cost you one! When there are no more lives, it'll be game over, and SpongeBob's house won't have the perfect wallpaper!
Can you give SpongeBob's home a makeover and fill it with unique wallpaper? Let's get to work!