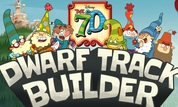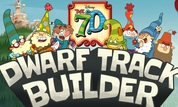 Play Now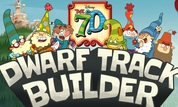 Unfortunately, Dwarf Track Builder is not available on your device. Please try one of the related games below or visit our HTML5 category.
About Dwarf Track Builder Game
Keep Jollywood safe by helping the Queen in The 7D: Dwarf Track Builder game! Your seven friends are hard at work again! They have to think of a way to make Queen Delightful's shopping trip easier. Will you lend them a hand for this project?
Show off your skills and think of the perfect strategy! Your task here is to build tracks through the mines and around Jollywood, so your seven friends can travel. Keep the dwarfs out of trouble and avoid all the obstacles. Of course, you can also have some fun and build your trail just like a rollercoaster!
How to Play
Get ready to show off your building skills! The first step is to complete your training. Build your track by clicking on the pieces, then dragging them to your desired location. Listen to what each dwarf likes, and try to incorporate their wishes in your project for a high score!
Your friends have prepared two stages for you to try. In the beginning, only the training mode will be unlocked. Build your tracks by keeping the dwarfs' thoughts in mind, and aim for a high score! You need at least 30 points to discover new pieces for your project, so make sure to build a fun rollercoaster for your buddies to try!
Remember that every move counts! Once you begin the Race to the Castle, you have a limited amount of pieces you can use on your track. There will be obstacles in your way, so make sure to avoid them. If you get into accidents, you won't be able to complete your course!
Look for Queen Delightful's missing groceries, and do your best to collect every item! If you get them all, you will earn a perfect score at the end of the challenge. If there are missing objects, your score will be lower and lower. Don't worry, because you can retry the missions as many times as you want!
Well, are you ready to build the most epic rollercoaster? Join your buddies from The 7D and complete the mission!
Have fun!