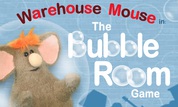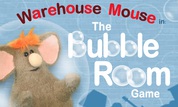 Play Now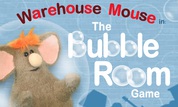 Unfortunately, Warehouse Mouse in the Bubble Room is not available on your device. Please try one of the related games below or visit our HTML5 category.
About Warehouse Mouse in the Bubble Room Game
A disaster happened in the Warehouse Mouse in the Bubble Room game, and the Imagination Movers need your help to sort things out! Someone left the Wind Room open, and Warehouse Mouse got flown away with all of his stuff in the bubble room! Luckily, he did not get hurt, but he still needs to get all his items back!
Your job is to guide Warehouse Mouse in his bubble through the room and get all of his belongings back. However, there is not much time, so you should move quickly. Are you the right person for this challenge? If so, let's get started and search for the mouse's stuff!
How to Play
To control the bubble, you should learn the controls. Here is a list of everything you need to know:
- Right and Left arrow keys: Move around.
- Spacebar: Pop the bubble.
You can also use your Left Click to make all these moves. You only need to hit the arrows to go past the shelves or the Pop button on your screen.
You will need to complete three stages, and you will have to grab items from specific categories for each. For example, the first thing you will need to collect is Warehouse Mouse cheese. Next, you can go and pick up his costumes and art collection! These items will also give you several points to achieve a high score!
You will have limited time to grab the items. Once the bubble timer fills up, you will pass to the next stage. Don't worry, though! You can use the bouncy shelves to launch the mouse and grab many items. However, he needs to be out of his bubble to do this.
Are you ready to help Warehouse Mouse retrieve his lost items from the Bubble Room? Let's get started and see how many you can grab before the timer ends!