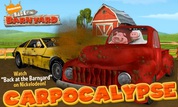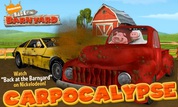 Play Now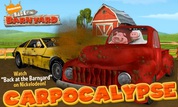 Unfortunately, Carpocalypse is not available on your device. Please try one of the related games below or visit our HTML5 category.
About Carpocalypse Game
Prepare to smash your car into your Back at the Barnyard friends' in the Carpocalypse game! Things at the farm can get a little crazy when Otis and his buddies get their hands on some strong trucks! A little game of skid and bump on the muddy grounds is fun no matter what side of the fence you're on! Will you join the animals in this smash fest?
Your only goal in this game is to smash your opponents' cars until they break and become the arena's champion! Don't hold back and smash away! Your vehicle must survive the bumping!
How to play the game
You will need your keyboard to control your car! First, you must choose your driver and vehicle! Then use the arrow keys to move around the muddy arena. Once you've decided on a target, drive full speed into them to damage the opponent's car! You'll win the round when all the other vehicles get destroyed!
Remember to pay attention to the damage indicator on each car! Every round, the vehicles are at maximum health. The little light will change from green to orange and red with each hit your truck receives. When the indicator becomes red and blinks, your vehicle is close to being destroyed, so be careful!
Multiple road signs will appear around the arena. They act as power-ups, so pick them up whenever you see one. They will boost your vehicle's Armor, Speed, Damage, or Health for a short time. Another road sign you can pick up is the 50+ one, which will add to your high score!
Now that you know all the dirty tricks, will you be able to win the round and smash every farm animal's car? Time for some crazy bumps!