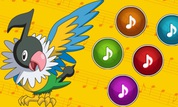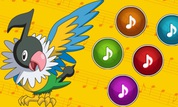 Play Now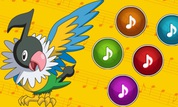 Unfortunately, Chatot's Chime-Time Challenge is not available on your device. Please try one of the related games below or visit our HTML5 category.
About Chatot's Chime-Time Challenge Game
Enjoy some lovely tunes with your new musical Pokemon friend in the Chatot's Chime-Time Challenge game! Chatot's life is all about music and rhythm! Keeping up with the beat is crucial, which is why he has created this challenge for you! It's time to feel the music and find the perfect flow for your next song! Can you keep up with Chatot's rhythm?
Your main goal in this game is to follow and mimic Chatot's rhythm by clicking on the colored pads. If you match the rhythm perfectly and fill the sound bar on the side, you can even get a Bonus Level which will help you gain many points! Try not to mess up and create beautiful songs with Chatot!
How to Play
The only instrument you'll need in this game is your mouse. Click on the pads and follow the rhythm of each tune. It's all about timing, so remember to match your clicks as closely as possible to earn maximum points!
The meter on the side of your screen fills in when you earn points! When it's complete, you enter the Bonus Challenge. During it, you must click the sound pads as they light up to add extra points to your high score!
Unfortunately, you only have three chances to get the sound pattern correct. You can avoid making mistakes by clicking the Listen Again button at the bottom of your screen and replaying Chatot's tune!
The more you advance in the game, the more intricate the songs will get. More sound pads will appear, and Chatot will make you remember many lovely but complicated melodies!
Now that you know all about this challenge, will you be able to master the fun rhythms of Chatot's tunes? Let's hear it!