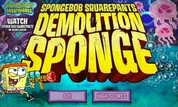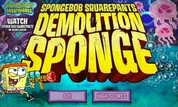 Play Now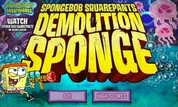 Unfortunately, Demolition Sponge is not available on your device. Please try one of the related games below or visit our HTML5 category.
About Demolition Sponge Game
SpongeBob is getting attacked by a bunch of jellyfish in the Demolition Sponge game! Although SpongeBob is a well-known jellyfisher, things don't always go as planned. Sometimes, the jellyfish strike back, and this time they want to sting the friendly sponge and drive him out of their green plains! Will you help SpongeBob escape the jellyfish army unharmed?
Your mission is to get rid of all the attacking jellyfish by shooting them with your bubble gun! Show off your hand-to-eye coordination and test your aiming skills in this adventure! Don't let the jellyfish catch up to you or zap you!
How to Play
You will need your keyboard and mouse to fight the jellyfish army. Here are your controls and how to use them:
- Left/Right arrow keys: Move around.
- Up arrow key: Jump.
- Left click: Aim and shoot the jellyfish with the bubble blaster.
The jelly creatures are unpredictable, so pay attention when you move, or you might get stung. No matter their color or size, the jellyfish will sting and take away one of your lives. You only have three chances to fight the creatures before it's game over!
From time to time, a mighty King jellyfish might appear as you're trapping the others in the bubbles! You will know when it shows up because the plains, sky, and everything else become bright red. Shoot it with your bubble blaster, and it will eventually go away for a while!
You can upgrade your gun in different ways by picking up the power-ups from the floor. For example, the green shell will make your blaster shoot three bubble beams instead of one. Another one is the star, which will send SpongeBob into a frenzy and shoot wildly everywhere!
Are you ready to help SpongeBob defeat the jellyfish army? Let's fight them together!