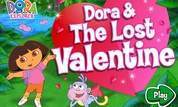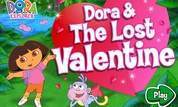 Play Now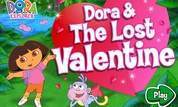 Unfortunately, Dora & The Lost Valentine is not available on your device. Please try one of the related games below or visit our HTML5 category.
About Dora & The Lost Valentine Game
Join Dora and Boots on a quest to find the missing card in the Dora & The Lost Valentine game! Don't you love showing your friends how much you appreciate them for Valentine's Day? The cute explorer's gift was blown away by the wind, and now it's lost somewhere! It's time to lend your friend a hand and look for the pink envelope together!
Let's head off on this exciting adventure! Finding the lost item is no easy task because you must look for it all over the jungle! Show off your impressive memory and math skills, and you'll reach the heart of the jungle in no time! Are you confident you can solve all the missions on the way there?
How to Play
It's time to explore the unknown land! Luckily there's no fancy gear required because you only need to use your mouse. Click on the right items, make your choices, and reach the end of your journey! Sounds easy so far, right?
Your main goal is to find Dora's missing Valentine as soon as possible. This is why you must travel to the Be Mine Vines, the Think Pink Pond, and finally, reach the Heart of the Jungle. You never know where the card is hiding, so prepare to explore each location with your buddies!
Each area has a fun challenge that you must overcome to keep going. These missions will challenge you to complete patterns with the missing elements, count items, and search for a hidden object. Just stay focused and put your mind to the test to overcome each trial. Luckily, if you select a wrong answer, you can keep trying until you get it right!
Have you managed to find the missing Valentine? If so, now is your chance to make your own card! Select a colorful design, add a picture of Dora and Boots, then use stickers to decorate your creation. Once your work is complete, you can print it out and give it to someone special!
Let's get moving! The cute explorer needs your help to find the envelope. Can you reach the heart of the jungle in time?