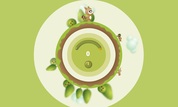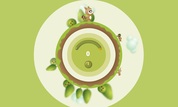 Play Now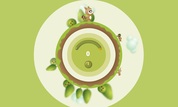 Unfortunately, What Comes Around is not available on your device. Please try one of the related games below or visit our HTML5 category.
About What Comes Around Game
The raccoon must get rid of the pesky gophers before they steal his food in the What Comes Around game! Since winter is approaching, the raccoon has gathered walnuts and other fruit in his hideout. However, the little gophers are trying to steal it. Will you help the raccoon protect it?
Your goal in this game is to keep the gophers off the raccoon's territory by hitting them with walnuts! As the map is constantly turning, it might take a while to get the hang of it, but once you figure it out, no pest will challenge the cute raccoon!
How to Play
To move the raccoon in each direction, use your cursor. Once you've found the target gopher, you can click to drop a walnut on it and eliminate it. However, if one runs too close to you, press the Spacebar to jump over and avoid it.
The bar in the middle of your screen shows how much energy the raccoon has before he has to stop running. If you hit a gopher, the bar will fill quicker, and you'll have to stop. When the bar is filled, it'll be game over, so save up as much energy as possible.
You can collect apples and oranges to give yourself an advantage while defending the territory. For instance, the apple will replenish your energy, and the orange will give the raccoon a shield to protect him against the gophers.
Are you ready to become a hero and protect the raccoon's territory from the little creatures? Keep the pests out with the help of your new furry friend!