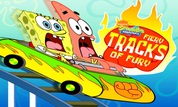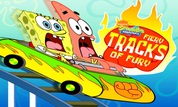 Play Now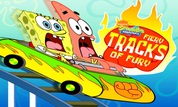 Unfortunately, Fiery Tracks of Fury is not available on your device. Please try one of the related games below or visit our HTML5 category.
About Fiery Tracks of Fury Game
If you love roller coasters and thrilling rides, you have to join SpongeBob for the Fiery Tracks of Fury game! The wacky sponge has decided to take his friend, Patrick, on a trip to see Glove World. To enjoy their time at the theme park, you'll need to lend the two boys a hand. Are you up for this challenge?
It's time to show off your skills and help SpongeBob and Patrick survive the scary ride. Your cute buddies are trapped on the Fiery Fist O' Pain roller coaster, and they can't escape! To get off, you have to help them reach the end safely. Are you confident you can keep them out of harm's way?
How to Play
Your mission is to get your two friends off the thrill ride in one piece. Don't worry, because all you'll need is your mouse! Drag your cursor across the screen to move your cart, then click to jump! Be careful, or the tracks might prove to be scarier than expected!
You only get three lives, so you need to pay attention to your surroundings! The Fiery Fist is always above your head, waiting for a wrong move. It can even hit the roller coaster and create cracks in your way, so make sure to avoid all obstacles!
Of course, not everything has to be scary. As you keep going further, you will notice some items will begin showing up. Do your best to collect the cotton candy and red balloons, and you can earn extra points. If you're aiming for a high score, this is your chance for a bonus!
Don't worry if you cannot end the ride safely the first time! You can replay the game until you get SpongeBob and Patrick to the end of the roller coaster. The more you play, the more your skills will improve. If you face your fears, you will even become less scared!
Are you ready for this challenge? Your friends from SpongeBob SquarePants are counting on you to join them!
Good luck!