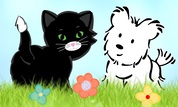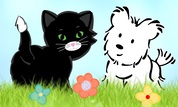 Play Now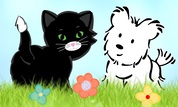 Unfortunately, Licorice & Coconut in Party Pals is not available on your device. Please try one of the related games below or visit our HTML5 category.
About Licorice & Coconut in Party Pals Game
Don't you love going to parties? If so, give the Licorice & Coconut in Party Pals game a try, and find the missing presents! Your furry friends had a blast at the event, but now all the gifts are gone. Will you lend Licorice and Coconut a hand as they begin their search for the lost items?
It's time to take a walk through the field with the protagonists. Look for the missing presents, then help the duo pick them all up! Just watch out for any obstacles in your way because you don't want your friends to get hurt. Are you confident that you can help them find all the lost gifts?
How to Play
Before you begin your adventure, you should understand the basics. To make Licorice and Coconut hop through the field, you'll need to use your mouse. Simply place your cursor over the two characters, and they will jump high in the air. Doesn't that sound fun?
Your main goal is to reach all the gift boxes hidden around the yard. All the red boxes contain goodies for the two buddies, so you must be careful not to let any items go! This is why you must put the two characters' abilities to good use. While Licorice will jump higher, Coconut will be right behind her to collect the falling objects!
Remember that the yard is full of obstacles, so you have to be careful! Hop over the rocks, and make sure that no one gets hurt. Bees can also sting you, so you must stay away from them. Just keep your eyes on the screen, and react as soon as you see any danger to avoid it!
You only have 5 hearts, and you lose one each time you get hit. Once you run out of energy, it'll be game over! Luckily for you, the green gift boxes will help defend your friends. Once you reach these presents, you'll earn a circle of protection that will keep Licorice and Coconut safe!
There's no time to lose! The presents are missing, and your friends are counting on you to help them search. Will you be able to find all the lost gift boxes?