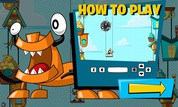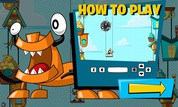 Play Now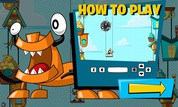 Unfortunately, Flexers is not available on your device. Please try one of the related games below or visit our HTML5 category.
About Flexers Game
The Sproingy Lands are in danger, and Kraw and Tentro must protect their homeland from Nixels meteors in the Flexers game! The floating houses in the sky region will be destroyed by meteors if the resident Flexers don't do anything about it! However, the two heroes, Kraw and Tentro, are ready to step in and eliminate the threat! Are you up for the challenge?
Your role is to destroy the meteors and jump over the Nixels lines by quickly switching between Kraw and Tentro! The perfect combination of Tentro's strength and Kraw's agility will save the Sproingy Lands before you know it! There's no time to lose!
How to Play
You will need your keyboard to get rid of the meteors. Here are your controls and how to use them:
- Arrow keys: Move around the sky map.
- Spacebar: Throw rocks.
- X: Change to Kraw.
- Z: Change to Tentro.
There are two types of dangers you must go against. First, you have the meteors, which Tentro can destroy with his powerful rock throws. Then, you'll encounter a line of Nixels that only Kraw can avoid. If you switch to him when you come across it, he'll automatically jump over it. However, if you forget to change robots at the right time, Tentro will be harmed.
When one of the robots takes damage, you'll notice it in the orange health bar on the right side of your screen. If it runs empty, it will be game over. The good news is that you can replenish your health by collecting the falling blue and orange packs!
The blue bar shows Tentro's stamina! You should avoid throwing too many rocks at once, or it will run out and slow him down! But don't worry! It fills back up over time!
Can you help your Flexer friends and save the Sproingy Lands from ultimate doom? Let's kick some Nixel butt together!