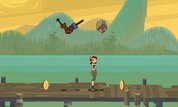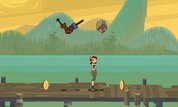 Play Now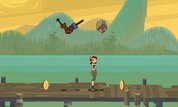 Unfortunately, Rain of Terror is not available on your device. Please try one of the related games below or visit our HTML5 category.
About Rain of Terror Game
How fast can you run? How high can you jump? And most importantly, how many coins are you able to collect? Answer yourself all these questions and show us that you love the characters from the Total Drama Action in the Rain of Terror Game.
The Chef has a new catapult, and he is using it to throw the garbage at all of the contestants from your favorite television show. You are the only one that can help them escape the peculiar items that are flying around the shore. Choose the team that you want to save from the garbage. Pick between the Heroic Hamsters or the Villainous Vultures and let's begin the adventure.
How to Play
Just use the arrows on your computer to move to the left or to the right and the spacebar to jump. Dodge the dangerous objects that are being catapulted by Chef such as balls, violins, sharks and so on. Jump over them, run from them or whatever you find of help for escaping them. Every time an object touches the ground, it will leave a coin behind. It is not enough to miss the catapulted items, you will also need to collect as many coins as possible.
You begin each time with four lives. The longer you last, the higher your score will be. The final number of points that you won is actually the score multiplied by the coins that you collect, so be aware of the fact that you have to grab as many as you can and as fast as you can. Every time you lose, after you restart, you will be able to play with a different character from the team that you chose. If you lose a life, do not worry. Just try to collect the marshmallows that might appear on the shore to gain an additional one. Gain more points and unlock the next levels to face more challenges.
Think fast, act fast and collect the coins even faster! Come and let's have some fun. Let the game begin!