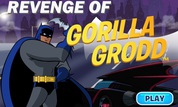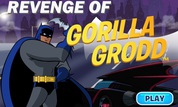 Play Now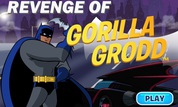 Unfortunately, Revenge of Gorilla Grodd is not available on your device. Please try one of the related games below or visit our HTML5 category.
About Revenge of Gorilla Grodd Game
Help Batman catch the evil primate in the Revenge of Gorilla Grodd game! Jump behind the wheel of the Batmobile and race around Gotham City's streets until you stop the mayhem caused by Grodd. However, he will not let himself get caught so easily. Will you help Batman catch up to him and save the day?
Your job is to drive at high speed until you catch up to the gorilla. However, Grodd has loads of items to throw and slow you down. Don't worry, though! You will have plenty of help from Blue Beattle and Red Tornado to finish the job!
How to Play
There will be five lanes on every street, and you only need your Right and Left arrow keys to switch between them. However, your reflexes will be the number one factor in dodging all the items dropped by Grodd. So, you should keep your eyes open and avoid everything he throws at you!
There will be many levels to clear, and you should try to achieve a high score for each! You get points according to the distance you cover. However, you have an energy meter for the Batmobile that goes down as you drive and if you get hit. Also, the race will be over if it runs out, and Grodd will escape!
Luckily Batman has the help of two famous heroes to help him! Blue Bettle and Red Tornado will hop in frequently to drop power-ups. You can grab Bats' badge to gain extra points and the fuel canister to recharge some of your fuel. Those items can make your mission successful. Try not to miss out on them!
It's time to get into the Batmobile and hit the streets of Gotham! Will your driving skills be enough to catch Gorilla Grodd? Let's hurry and see you in action!