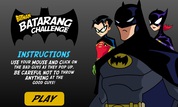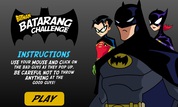 Play Now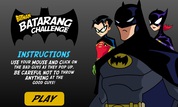 Unfortunately, Batarang Challenge is not available on your device. Please try one of the related games below or visit our HTML5 category.
About Batarang Challenge Game
In the Batarang Challenge game, the villains of Gotham have left their layers and are up to no good. Thankfully, Batman is always on the watch! He prepared the Batarangs to bring down whoever disturbs the peace of his city! Do you think you can help him defeat foes like Joker, The Riddler, Cat Woman, and others?
Your job is to help Batman use his trusty weapon and defeat everyone! However, some of his helpers are joining the fight and should always be protected! Is your aim true enough not to hurt Robin and his other companions? Let's see if you are a master of the Batarang!
How to Play
Before you start taking on the most vicious criminals of Gotham City, you should learn how to use your weapons! The only tool you need is your mouse! Move it around to aim and when a villain pops out, use the Left Click to throw the Batarang at them! Serving justice is easier than ever!
Your job is to hit as many foes as possible for a high score! You gain fifty points for every villain you defeat. It only takes one hit, but they might return shortly! However, if you hit Batgirl, you will lose one hundred points, and you might even have a negative score if you hit your companions too many times. The same goes for the other good guys!
The last concern is the time! You will have one minute to defeat as many enemies as possible. So try to have a perfect aim if you want a high score! Also, if you hit your companions even once, you can consider it a failed mission. No hero hurts innocent people, especially the ones that help him!
Are you ready to start protecting Gotham City with Batman, Robin, and Batgirl on your side? Let's see if you can defeat The Penguin, Cat Woman, and the other criminals.