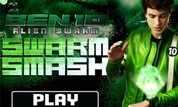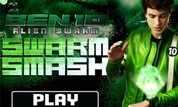 Play Now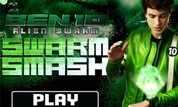 Unfortunately Swarm Smash is not available on your device. Please try one of the related games below or visit our HTML5 category.
This Flash game is loaded using an emulator. If you notice any glitches(such as the game getting stuck or music/sound missing), click to play the original version with NuMuKi Browser for the best experience.
About Swarm Smash Game
Gwen and Kevin are in trouble in the Swarm Smash Game! Something strange has occurred downtown recently: large, human-shaped swarms of buzzing insects have been spotted lurking through the city's streets. What's more, some people swear that this little vermis can control people's minds once infected! While Ben 10 was busy, Gwen and Kevin went off to investigate.
But the enemy was expecting them! They have been captured and are being held hostage by the evil Alien Swarms. It's up to you to come up with a plan and save them!
You'll have to sneak into their headquarters, fight off those disgusting bugs, and rescue your beloved friends before they are eaten out by Swarms. Do you think you can rise up to the challenge?
How to play the game
To get the city's people out of the Swarm spell, you'll need to destroy every last bug that you'll encounter in their hiding spot. And it's also better to hurry up; we wouldn't want Gwen and Kevin to be subjected as well to this complicated, mind-controlling procedure.
First, you'll need to transform into a Humungosaur to be able to battle the aliens. Use the Left and Right arrow keys to move through their perimeters. Once you encounter a shadowy, buzzing figure, use the Z key to launch a fist. To jump over them, simply press the X key.
For more sophisticated attacks, you'll have to do some combinations. To tackle their attacks, press both the Z key and the Down arrow key at once. Should you want to state a more powerful attack that will send them into mid-air, use the Z and Up arrow key combination for an uppercut.
If you want to surprise your enemies from above, press the X and Z keys together to do a jump kick. Should those moves still not be enough, you can always make use of the Spacebar for a super strike. Once your enemies are dead, make sure to collect the Green Energy orbs and Red Health ones that they leave in their ashes.