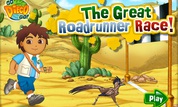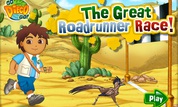 Play Now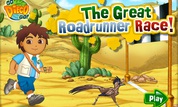 Unfortunately, The Great Roadrunner Race is not available on your device. Please try one of the related games below or visit our HTML5 category.
About The Great Roadrunner Race Game
You shouldn't miss The Great Roadrunner Race if you enjoy fast-paced challenges! It's time for the race to begin, and Roady Roadrunner still needs to practice for the big event. Diego wants to help him out, so he will go for a run along with the fast bird. Will you join your friends and go on this adventure together?
To practice for the Great Roadrunner Race, you need to be the fastest and reach the finish line first. However, the way is full of obstacles, so you must guide Roady and keep him safe. Remember to duck, jump and run through the desert, and try not to get hurt! Stay focused, and you'll surely come in the first place!
How to Play
Don't worry if you're not a fast runner! All you need to win today's event is your mouse. Move your cursor up and down the screen to guide Roady and avoid the obstacles. If you get caught in a sandstorm, all you have to do is tap on the Space bar to shake it away!
Have you ever competed in a race? If so, then you already know that speed is essential. To stay ahead of the other competitors and achieve first place, you must guide your buddy and aim for the finish line. Are you ready to begin?
Do your best not to run into any obstacles such as logs, bushes, or rocks, because each one will slow you down! Luckily there's no time limit here, but you don't want to waste any seconds. The more time you lose, the higher your opponents' advantage becomes! Just remember to avoid the sandstorms at all costs, or you can fall behind!
Do you need a speed boost to achieve victory? If so, just keep your eyes open for any items on the ground. Pick them up, and you will gain a temporary power-up so Roady Roadrunner will run as fast as the wind! Doesn't it sound great?
What are you waiting for? Diego is counting on you to help your friend practice for the big event! Participate in the race together, and aim for first place!