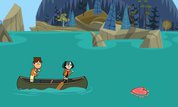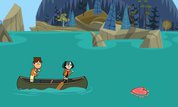 Play Now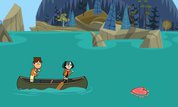 Unfortunately, Up the Creek is not available on your device. Please try one of the related games below or visit our HTML5 category.
About Up the Creek Game
The contestants from Total Drama Island have to pass some literally impossible tasks to spend as much time as possible on the island and win one million dollars. Today they have to paddle all the way to the finish line in a small canoe. Play Total Drama: Up the Creek game and help Gwen and Cody's team to win.
You are going to be a part of Gwen and Cody's team. They need to collect enough heart macaroni until they arrive at the finish line. If they do not obtain the specified number of heart macaroni, you will need to replay the level.
How to Play
Do your best to avoid the rocks and the logs. They will make you lose your health, and when your health meter is zero, the game is over. Be careful at the fishes who jump into your canoe. They will make you lose points too.
More than that watch out for the other contestants. They want to win as well, and they will try to stop you. When other contestants appear, they will throw with pineapples at you, just to make you slow down.
To control the canoe, use your mouse. Move the mouse cursor from one side to another to make the canoe avoid the obstacles. If you move to mouse cursor in front, the boat will go faster. You can collect more macaroni hearts than needed. Each macaroni heart brings you extra points. At the end of the game, you will be able to see your final score.
Good luck!