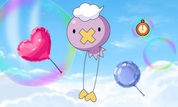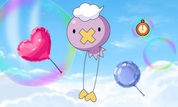 Play Now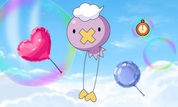 Unfortunately, Drifloon's Fill & Float is not available on your device. Please try one of the related games below or visit our HTML5 category.
About Drifloon's Fill & Float Game
Join your lovely Pokemon friend in sending soap bubbles into the sky in the Drifloon's Fill & Float game! Drifloon spends most of his time in the air, so this is his favorite activity! He wants to blow soap balloons so great that everyone will see them if they look up! Can you help Drifloon fill the sky with bubbles?
Making enormous bubbles out of soap and avoiding obstacle balloons is your goal in this game! Try to have none of your bubbles pop, or you'll waste soap and empty the soap gauge. Make sure you take advantage of the power-ups as well, as they will make your game last longer and allow you to earn more points!
How to Play
Blowing soap bubbles is easy as you will only need your mouse! Click on any spot in the sky and hold to create your bubble! The longer you press, the bigger it will be! Release the button to let it go and earn points.
The bubble size does matter for your score, but it doesn't have to be enormous from the start! You can make it larger by adding smaller soap bubbles to it. Just drag the smaller bubble to the big one to add to it! However, make sure it doesn't float out of range!
Avoid the balloons as much as possible. If they hit your bubble while you're making it, they will pop it! However, once you release it into the sky, the balloons won't affect it anymore and will float with it!
There are a few power-ups you can collect! You can either drag your bubble toward them or click on them! Here's how they help you:
- The soap container will add more material to your soap gauge.
- The stopwatch will freeze everything in place for a few seconds!
- The Drifloon icon will clear the sky of balloons for a little while!
So now that you know how to make the Pokemon happy, will you conquer the skies with Drifloon? Have some fun amongst the clouds!