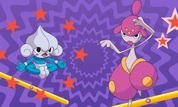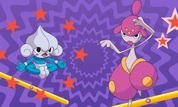 Play Now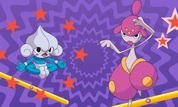 Unfortunately, Medicham's Balance Bounce is not available on your device. Please try one of the related games below or visit our HTML5 category.
About Medicham's Balance Bounce Game
Test your skills and show stability to your psychic Pokemon buddy in Medicham's Balance Bounce game! Medicham has prepared a challenge for you that requires focus and discipline! Prove that you can keep things balanced and impress your new friend! Can you keep everything on the bars and beat the challenge?
Your main goal in this game is to keep the small ball in the air while the bigger one underneath remains on the bottom bar! You cannot miss this game if you're a fan of games that test your ability to balance things! Try doing it for five minutes, and you'll win the game!
How to Play
Your mouse is the only tool you need to play this game. Move your cursor from one side to another to help bounce off the smaller ball. You also have to remember that the ball at the bottom might fall off if you're not careful! You can also use your Left and Right arrow keys to balance the balls if you prefer the keyboard!
The longer you keep the balls balanced, the more points you get! So keep it steady to earn the highest score! The counter on your screen will tell you how much time has passed! Once it hits five minutes, the game will be over, and you'll be the winner!
If you play the Challenging mode, you will have to collect items that fall from the sky. The red items will add extra points to your high score, while the purple ones will take away from your scoring! You can also gather yellow diamonds. Those will highlight some of the wall panels, which will give you bonus points when hit by your ball!
Now that you know all the tricks, will you be able to balance everything and impress Medichamp? Keep it steady!