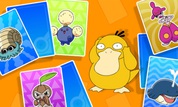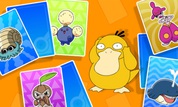 Play Now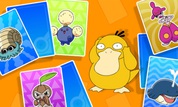 Unfortunately, Psyduck's Shuffle Surprise is not available on your device. Please try one of the related games below or visit our HTML5 category.
About Psyduck's Shuffle Surprise Game
Play a fun card game and test your skills with your confused little Pokemon friend in the Psyduck's Shuffle Surprise game! Psyduck's memory has always been funky, so he doesn't remember much stuff! However, that doesn't stop the quirky duck from enjoying a challenge like this. He often drags his friends into it too!
Keeping your eye on the selected card is your only goal in this game! Don't let the card get away from you! You should try this game if you are a fan of memory-testing games! No matter the speed or how much the pattern changes, with a bit of concentration, you'll be able to find the necessary card! Will you memorize it all?
How to play the game
The only tool you will need for this card game is your mouse. Once you've memorized the Pokemon on your card, press the Start button at the bottom of your screen. When you do, all the cards will flip around and start moving. If you're confident with your choice, click on the card to turn it around and win the round!
If you look carefully at the bottom left of your screen, you will notice some Pokeballs. Those represent your chances. Every time you get a card wrong, you will lose one of the Pokeballs! You only have three tries, so make sure you hold onto them! Once they're gone, it's game over, and then you'll have to start from level one again!
You can earn some cool Trainer Tokens for your collection! You'll get five the first time you complete five levels. You can also receive three more every time you finish ten more levels! Only a true collector of these Tokens can do it! Be the first one to get them all!
Now that you know all the tricks to clear each level, will you help the lovely Psyduck prove his skills to everyone? Don't let anything out of your sight!