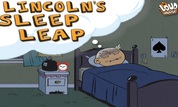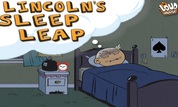 Play Now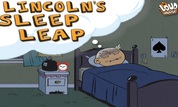 Unfortunately, Lincoln's Sleep Leap is not available on your device. Please try one of the related games below or visit our HTML5 category.
About Lincoln's Sleep Leap Game
Lincoln's imagination is getting out of control in Lincoln's Sleep Leap game. The past few nights have been anything but restful for our hero. Nightmares have been troubling Lincoln's sleep every night, keeping him away from his ordinary, peaceful sleep.
Now he is trapped into another dream, with strange objects flying all over the place and floating pillows that make up a maze of staircases. Will you help our dear friend escape this illusion? Will you show him the way to the top of the stairs and into the real world?
How to Play
Let's see what we can do to get Lincoln back, shall we? First of all, your main objective is to climb those pillow stairs and find a way out of this nightmare. Before you start the game, you can choose your difficulty: Easy or Hard.
Once in the dream, you can tap on the Left and Right Arrow keys to move Lincoln from stair to stair. Should there be a gap in between pillows, you can use the Spacebar to double jump or the Z key to create a platform.
The gameplay gets trickier and trickier as you progress. You will have to fight off angry Alarm Clocks and strangely-looking objects on your way to freedom. In doing so, you can use the X key to throw some punches and kick your enemies.
You should also look after stars and hearts on your way. Pick hearts up for an extra life, so that you won't lose the game if you fall down. Also, the more stars you collect, the more achievements you will get!
Now that you know how to play, let's go help our dear friend escape his nightmares, shall we?